June 2004






June 1 Got the bike back last week. Because of our schedules, we didn't get a chance to ride until the weekend. Ed changed some of our gearing and added a third eye to keep the chain from falling off. We rode several times over the weekend and the chain didn't fall off. So far, so good.

We spent the night in Philly on Friday because we wanted to go the Museum and decided to ride there on Saturday morning. We had a great ride! I found a route for us leaving from the Museum and going to Valley Forge. Unfortunately, the directions weren't very clear and we made a couple of wrong turns. We got back on track but discover a great hill to use for training. We're going to be there again next weekend and will do this route again. We rode about 44.77 miles miles on Saturday before heading home and going to a crab boil.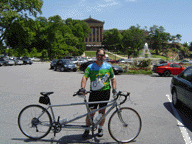 Dan in front of Philadelphia Museum
of Art after we completed our ride

Sunday we only rode about 16.67 miles because we had a christening at 10:30. We planned to be on the rode at 7am on Monday so we could get in a 50 mile ride. We didn't actually get out until about 8am and managed to do 38.72 miles before it started to sprinkle. We made it home before the skies really opened up.

Starting in June, we're going to do at least one 60 mile ride every weekend.

June 6 Last week we started getting up at 5:15am to see if we could ride 12-15 miles in the morning before Dan had to get on the train. This way, we only have to get in one really long ride on the weekends but we're still getting in plenty of bike time. Thursday was the Wachovia Bike Race in Trenton. That was a lot of fun. We didn't see a lot of the race. It rained most of the day yesterday and we didn't get to ride our planned 70 mile ride. We did work out this morning (1 1/2 hours - 1 of which was on the stationary bike) but it wasn't quite the same. We're really going to have to be diligent in getting up in the mornings this upcoming week to make up for not being able to do Saturday's ride.
We're in Philly this weekend celebrating our weekend and spent some time this morning at the Wachovia Bike race. We were in awe at the bikers (men & women) mastering the mountain known as the Manayunk Wall. It was about a 17% grade. Dan and I were in Philly last weekend as well and when we were out riding we almost accidentally made a wrong turn that would have led us up the wall. I don't think we would have made it. We walked up the "Wall" and that was a workout.

June 7 Today is our 5 year wedding anniversary.

We got up this morning and only rode about 42 minutes. Dan had an early meeting and wanted to make sure he had plenty of time before he had to get ready to leave.
June 8 Out on the bike again this morning. We rode 15.21 miles. With just a little effort, we could manage to ride 20 miles in the morning. That would really be a good way to start the day. Today was also our fastest average speed (18.14 mph). Tomorrow, I hope we can get started just a few minutes sooner and manage to ride for a full hour and 20 miles.

June 9 We increased our average speed just a bit to 18.57 mph. True, it's on "flat" roads but we're still working pretty hard. Our first century ride is on Saturday. I'm a little nervous about that since that is the farthest distance I've ridden with Dan on the tandem or on my single bike. As long as we take scheduled breaks we should do fine.

June 12 We did the Ride for Autism today.

June 14 We did our usual 15 mile ride this morning. We didn't ride yesterday to give our bodies a chance to ride after the century ride. If the weather holds out, we're doing to do another short ride this evening when Dan gets home from work.

June 17 On Tuesday, we decided to do 20 miles on our morning ride. I'm glad we did it but we realized we really don't have enough time to do that in the morning before Dan has to leave for his usual train. We also had a flat tire that morning which also delayed us. Had to take the back in yesterday to replace the back tire. We should probably get one last bike check before we leave for the big ride.

We only did 11.5 miles this morning. Dan had to put the tire back and tightened up some other things on the bike before we could leave. This delayed our departure so we had to cut the ride short. Tomorrow, we'll be back to our normal schedule of 15 miles in the morning.

June 18 Including the 15.21 miles we did this morning, we're now at 248.7 miles of riding this month. Dan is determined that we reach 500 miles. If we keep on our current schedule, we should be able to make the goal. We'll probably add a couple of short and easy Sunday rides just to be sure.

June 22 Did our usual route this morning (15.26 miles). Average speed was 17.55 mph today. It was cooler this morning and I'm still a little sore from lifting weight yesterday. We didn't ride yesterday because we had a flat when we got up. It would have taken Dan about 10 minutes to fix and we would have had a really short ride. We're planning to do a short, hilly ride tonight. (Up to 263.96 miles of riding)

June 23 We didn't do a second ride yesterday because it was raining. We were out again this morning and did 16.13 miles along our usual route. (Up to 280.09).

June 25 Dan's foot is sore and he's limping but we did our ride this morning. We're planning to ride 45 miles before I go to book club tomorrow and then we're doing a 30 mile ride with the DOGS on Sunday. (Up to 295.34)

June 29 Today is the first day we've been back on the bike since Friday. Dan's foot got worse and he could barely walk without a lot of pain for most of the weekend. He started feeling better on Sunday and was lots better on Monday. We decided it was better to give him one more day to rest before riding again.

We did our usual route today (15.17). It was good to be on the road again. We'll keep up the training this week and ease up after the weekend. We leave in just 11 days!