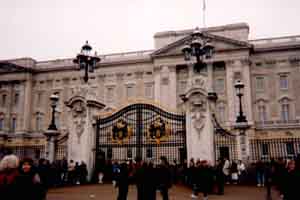 It was a dreary morning with a slight drizzle. Ah, but what a perfect way to experience the real England. A sheen of wet on the streets. Passersby with umbrellas and makeshift hats walking to and fro. A most English morning.
I arrived at the Palace an hour early, not having been able to determine
the exact time for the event and not knowing how close the the Palace
was. The crowds at the Palace grew steadily during the hour I waited,
until more than 2000 men, women and children from all around the world
hummed with anticipation of the big event.
Mounted and pedestrian police were dispatched into the bulging crowd to
somehow jam it back behind the appointed barriers -- out of harms and
the guards way. The eager crowd was undaunted by all the shoving.
After all, the police action was the first positive sign that something
big was about to occur. Damp though it was the crowd knew that its
respective journeys from far and wide were to be rewarded with
photographs and videotapes of Englands finest, The Guard.
And then, a lone police car drove up onto the plaza and stopped. The
public address was turned on (an introduction, this was great). The
speaker began, "Ladies and Gentleman, today's changing of the guard, has
been canceled, due to rain". ---- Canceled, due to rain. In England.
2000 tourists dressed in no more than sweaters and jeans, most with no
hats, stood stunned. Shock turned to disbelief. Disbelief into dismay.
Slowly and quietly, reality set in and without protest the crowd
dispearsed. Then, the Sun came out.
The Queen's guard, the last line of defense, the proud, the fearsome.
the well-covered in big furry hats, were outlasted by a bunch of old
ladies and kids.
The message that the tourists must certainly take back to their
respective countries. "If we ever decide to invade England -- let's do
it on a rainy day"