Archive for the 'Trenton Elections' Category
Notes from the first gathering of Fans of Trenton's Irresponsible Blogger
Members the "Fans of Trenton's Irresponsible Blogger (FOTIB)" Facebook group met in person on November 8, 2017 at Trenton Social to the upcoming municipal election in May 2018.   We created a prioritized list of issues that our candidates should be prepared to have positions on and plans for.   Also, given that the position of city councilperson is so poorly understood, we created a list of virtues the candidates should have.
The group of over 20 activists gathered at Trenton Social included some of the city's best thinkers and doers, including 3 bloggers.
FOTIB 2018 Election Issue List
Some issues are grouped for with similar or closely related items.  (n) indicates repeated issues, therefore high priority.
New blood/thinking in the governing process (6)
Structure of the administration – departments (2)
Setting measurable goals
Budget before fiscal year starts
Cleanliness and Appearance of City (4)
Presentation and upkeep of parks
Litter / Dumping
Road conditions / lights
Specific plans to attract commercial ratables (4)
Processes for assistance to new business
Property tax rates for commercial
Change to the governance structure. Currently strong Mayor (2)
Staggered Council terms
Changing form of government
Term Limits
Other Top Issues
Accountability to ethical standards
How to make Trenton Schools appealing to citizens who send kids out of district
Position on current police/law enforcement contracts
Police residency options
Vacant property plans
Position on the State plan for office buildings downtown
Workforce preparedness and vocational training.
City Council Candidate Virtues
Moral compass (2)
Honesty/transparency
Knowledge of Trenton
Open minded
Tenure
Understands the job
Ability to negotiate / diplomacy
Understanding budgets as policy instruments
Understanding policy and how government works
Ability to creatively solve problems
Being available
Ability to use technology
Follow up
Courage to do the right thing
Living in Trenton its easy to understand the appeal of Donald Trump's message.
As a city, we're losers so often that it just feels normal. So when we hear a guy talk about turning that around and being winners again, or just doing things well (as a government) it's attractive. You wonder, what would that feel like?
What would it be like if we didn't have our money stolen, if we could hire a real IT firm, if we could enforce our laws (big ones and small ones), if we had a tax policy that didn't punish new investment?  What would it be like if we could communicate and enforce trash disposal policies instead of seeing it thrown all over our streets?
What would it be like if we didn't get confused by letters saying our buildings were vacant, our water bills were past due and our taxes weren't paid when they really were?  What would it be like if our water department weren't running one illegal scheme after another out of their building?
What would it be like if our leaders could be transparent about the city's issues? What if they didn't brawl at public meetings?  What would it be like if we didn't have to file Open Records Act forms to get information from the city, what if they just posted it online?  What if our Mayors didn't get sent to Federal prison?
What would it be like if our snow was plowed, our potholes were fixed and our broken sidewalks and streetlamps were restored to their original state?
What would it be like if the only hotel in town weren't about to close and taxpayers hadn't spent $65M to build it?  What if hockey teams and arena football teams didn't fail in Trenton?  What if we didn't give away prime real estate to "connected" non-profits that don't pay property taxes?  What if we could have a budget passed before the fiscal year starts?  What if we could pay for our own schools?  What if they actually graduated most of the kids?
What if the contaminated dirt at MLK school had been dealt with honestly?  What if we didn't invite corrupt developer Robert Kahan in to Trenton? What if we didn't fall for the Manex ponzi scheme? What if we hadn't turned the historic Douglass House in Mill Hill Park into a drug den? What if we hadn't forced the Broad Street Bank to be rent controlled? What if we hadn't ignored Chambersburg's concerns before the restaurants left?
What if simple building inspections only took 4 hours (like in Philadelphia) instead of 3 weeks?   What if you could communicate with the city through its web site and via email?
What if our property tax rate wasn't the highest in New Jersey (the state with the highest property taxes in the nation)?  What if drunks and drug dealers didn't infest our streets?   What if thieves were actually afraid of being caught?
What would it be like if we could recommend that a friend move to Trenton?
What would it feel like to live in a city of winners?
Historically (before Mack and Christie) the state funneled four main sources of revenue to Trenton:  Capital City Aid, CMPTRA, PILOTs on State Buildings and Energy Tax Receipts.
Two of those sources, CMPTRA and Energy Tax Receipts, are meant to be pass-through payments the state collects from corporations on behalf of every city in NJ.  CMPTRA includes business taxes (but in the case of Trenton also included some ill-defined PILOT payments). Energy Tax Receipts are paid from utility company fees.  It turns out that the State has been shortchanging cities across NJ for many years in both of these revenue streams.  Neither of them have transparent funding formulas.  The NJ League of Municipalities has taken the State to task over this but Trenton has been silent up until now.  Support for A-2753 to end diversion of Energy Tax Receipts is especially important.
There is no very accurate measure of the level that we have been shortchanged but experts in Trenton estimate the amount to be in the millions.  The next Mayor of Trenton will add his voice to those of other municipalities in formulating a better mechanism for transferring the money that rightly belongs to the cities.
The State discontinued the Capital City State Aid program in 2011.  It was essentially replaced with Transitional Aid though, at a lessor amount as you can see in the revenue charts below.    Capital City State Aid was a very undependable source of funding because it had no formula and was supplied through a yearly act of Legislation.   Obviously this Governor has decided that this outright grant is untenable.  I agree with him.
Transitional Aid was meant to be transitional, a gradual decrease in State funding with a lot of conditions monitored by the Dept. of Community Affairs (DCA) but really, the State wanted a plan to revitalize the city, a plan that it never got.  All of us in Trenton are aware of how that has gone under the Mack administration.   Because DCA and the Governor couldn't trust our former Mayor, funding was cut and the restrictions became tighter.
The final form of funding is what's most important for our future relationship with New Jersey.  Several State owned buildings in Trenton have had negotiated PILOTs with the City.  There is no rhyme or reason to this other than it was a mechanism in which to transfer additional funding to the City for various reasons.  Only a handful of State buildings have PILOTs.  The total amount comes out to about $9M.   This is an ad hoc approach to funding.
No State in the U.S. has any obligation to pay a City anything.  Governments can't tax each other.  However, many States understand that especially in Capital cities the state is a major property owner and employer and must behave more like a corporate landowner.   I propose that we formalize this approach through negotiation and State legislation to generate a funding PILOT based on either the assessed value of State land in Trenton or the proportion of land owned by the State.   The Fix Trenton's Budget group has analyzed this issue by examining the city's tax rolls and report that the State of NJ owns roughly 19% of all property value in Trenton.  However, we have reason to believe these values are under-assessed by quite a bit (perhaps 50%).   Additionally, the State owns about 28% of the acreage in the City.
The question is, if the State were taxed like a corporation, what would it pay?
Let's say that after a reassessment the State is found to own 30% of the land and property value.  Total values in Trenton are roughly $4B.   Our current tax rate is 3.85%.  Therefore the State could theoretically pay 30% X $4B X 3.85% = $46.2M.   This is more than it pays today in Transitional Aid and PILOTs (roughly $32M) but less than it did in 2010.   This is a good formula.
Trenton is in a dire situation though and we do need the State of NJ's help in recovering from this.   Our next Mayor will do well to ask for State assistance in many areas mainly around legislative relief to overhaul our tax system and create incentives to invest in Trenton.   In the meantime we will request that Transitional Aid be maintained until our economic plans can begin to bear fruit, likely 4-5 years.
Jim Golden's Trenton Forward plan is unique in that it includes a detailed plan to revitalize the city that specifically seeks to rid us of the need for transitional aid as long as our funding formulas can be formalized.   The BIG goal in that plan is to make Trenton much more self-sufficient.   Our lack of self-sufficiency puts us all at risk because our budgets will be uncertain.   We're entirely too dependent on the whims of a Governor or Legislature.
Trenton Revenue Source Comparison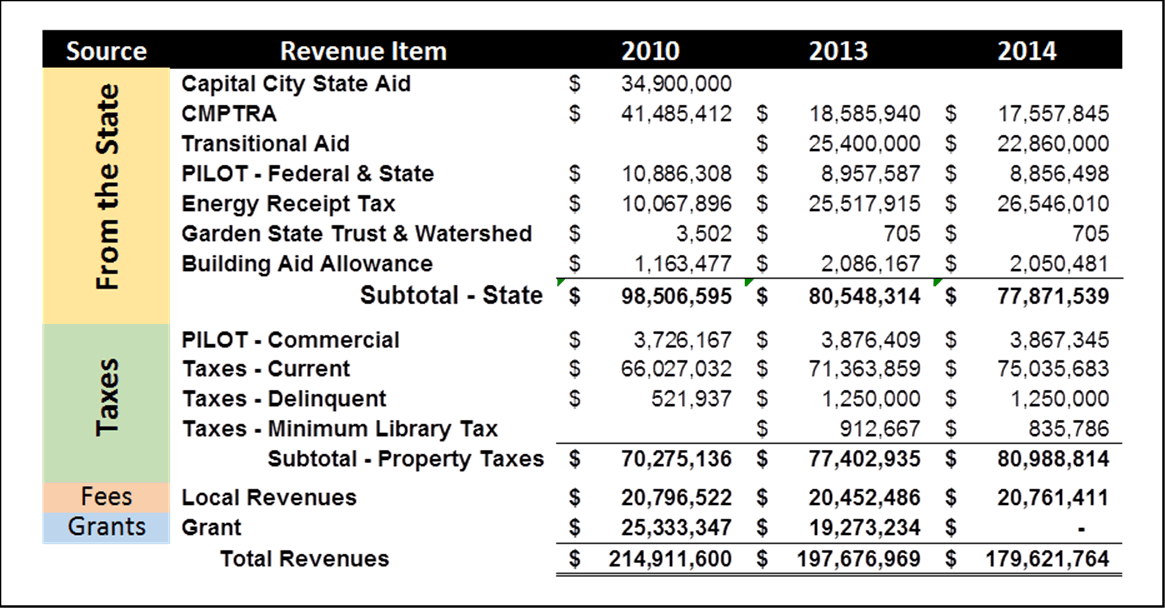 Source:   Trenton City Budgets, Fix Trenton's Budget.
Trenton Forward "Asks" to New Jersey: Beyond the Funding Formulas
Support for consulting project to define and implement Best in Breed
Seek a Land Value Tax capability to replace PILOTs and Vacant property registration fees
Allocate $50M to a Residential Investment subsidy over 10 years
Enact enabling legislation for Income Tax Credit Zone that caps state income taxes in Trenton
Continued funding for temporary police assistance
No clever new policy idea today.  Because what would it matter?  Trenton is governed, at least legally, by the worst Mayor ever.   I'm mad.   All Trentonians should be mad.  Our City Council members should be furious, except for the worthless three who've propped up the Convicted Occupant of the Mayor's Office, Tony Mack.
I'm so mad that I think of storming City Hall often. I imagine thousands of angry citizens with torches and pitchforks, busting through security up to the Mayor's office and knocking down the door. I think of riot police with tear-gas being forced into duty.
I envision CNN, ABC and the BBC covering the riot with choppers and camera crews.
Then, after days of international media coverage, the Attorney General refers the matter to the State Supreme Court. Out of fear of more public backlash, the court rules on the matter and sends Tony Mack to the deepest pit of prison hell, takes away pensions and for good measure re-writes our statutes concerning succession. Out of fear for their political futures (and a bit for their physical well-being) the legislature pass it in a week so this travesty never happens again.
You'll excuse the vitriol.   It's been 3 ½ years of suffering this fool and I'm tired and angry.
Few Americans will ever see civic corruption as up close and personal as Trentonians have recently.   Now that our 3 ½ year ordeal has been ended by the Federal Government our first inclination as citizens is to react.   I know I have already, especially at the public figures who supported or refused to denounce Tony Mack even in the face of his obvious misconduct as Mayor, even before his arrest.
But we have only 5 months until we elect a new government.   That new Mayor will have all the latitude in the world to reorganize and reinvent Trenton's administration.  He will be able hire new people and perhaps let some poor performers go.  He will be able to close down operations that don't make sense anymore or aren't critical to our functioning as a city.   He'll be able to put in place systemic changes to our tax, development and policing policy.
What we need now is an Acting Mayor who will allow his Directors to be open and transparent, who will question spending and who will put on a trustworthy face to the rest of the world, especially the State.   We don't need new policy from an Acting Mayor.  We don't need new programs.  There simply isn't time.   With the exception of a few dismissals of employees who have deliberately ignored Council's directives and needlessly withheld information, there should be no mass firings.  Instead, an Acting Mayor would do well to help the candidates prepare their policies by opening up the books and processes to those campaigns.
All indications so far seem to indicate Council President Muschal will take the "steady stewardship" approach.   Let's hope he keeps a cool head and does his part to insure the public makes the smartest choice it can for our next Mayor.
The news of Trenton City activist Pat Stewart's passing has hit me hard.
It's difficult to let a friend go, especially one that you've stood beside for so long and in so many capacities.  I can't remember exactly when I first came across Pat Stewart.  I was new to Trenton's political scene and Pat seemed to know everybody.   Everybody.
But no matter who she was talking to, whether friend or not, she spoke her mind including to me.  Pat would not tolerate what she saw as foolishness.  And frankly we've had more than our fair share of that in Trenton.
The Reinvent Trenton blog owes quite a bit to Pat Stewart.   My first foray into real politics was with the Lamberton Historic District Committee over Doug Palmer's plan to tear down the Kearney homes and replace it with a new government housing project.   She  couldn't understand  why we'd  tear  down  one  housing project which, in her words "was strong enough to withstand  a nuclear war"  just to build  another one.   We like to think that our efforts helped defeat that project.  Because of that effort we now have very nice market rate (non-government) housing on that site.
Pat, along with that same group, rallied the South Trenton neighborhood in opposition to Leewood  Development's proposal (again with Doug Palmer's support) to bulldoze 8 square blocks of historic housing stock along Centre Street.  Though  hers and  the group's  efforts   over 300 residents showed up  at several citizen's  meetings to oppose  the  project.   The opposition was eventually too intense for Palmer and Leewood and they retreated.
With these successes under her belt she encouraged former City Councilman Jim Coston   to organize an urban studies book club for residents who wanted to be better educated about revitalization issues.   For many of us, this group was our education.  We read the literature on urban revitalization and invited guest speakers of national renown to talk with us.   It's an education that led directly to this blog. Pat Stewart was a ring leader of that group.
My affiliation with Pat has continued throughout almost all of my civic endeavors.   She was a leader in the Trenton Council of Civic Associations and was vocal with the Trenton Republican committee.   She joined me in Fix Trenton's Budget and Majority for a Better Trenton. She put her hat into the ring in the 2009 Special election for South Ward Council and as everyone with an ounce of familiarity with Trenton politics knows, Pat Stewart was a fixture at City Council.
Pat, who was self-admittedly intimidated by technology, even started her own blog, Lamberton Lilly.  She made short and to the point comments about the goings on in Trenton.  She had a following.
Pat was everywhere and so much a part of Trenton for me that it I'm sure I will think of her often in the years to come.    I know that when our next administration finally crafts a real strategy for Trenton and it includes a real marketing plan for our city, I'll probably shed a tear and hope that Pat knows that her constant admonition has finally come to pass.
In many ways Reinvent Trenton has been written with Pat in mind.  It puts into words the ideas she had in her head.   I know this because she constantly encouraged and commented favorably on my articles.       I knew I was on the right track if Pat liked the article.
Of course Pat's influence goes far beyond what I know about personally.  She was a leader in the STARS civic association for many years, sat on the Zoning Board and was recently appointed by City Council to sit on the Ethics Commission.    These are places of honor in Trenton.
I know that her son Nicholas knows how we all feel about his mom.   I also know that the most important thing for a family member to know when a loved one passes is that the loved one will be remembered.   Nicholas, that is a certainty.
After 24 years of mayoral leadership that has gone from bad to worse, we once again have the chance to change direction in Trenton.  Like we did in 2010, we'll have a crowded field of candidates.  Unlike 2010, in 2014 we have several viable options.
In this very difficult time in Trenton's history, we as citizens need to be equipped to make a smart choice.   We've all seen how poor choices at the voting booth can materially damage our city.  This time around:
Voters need to consider all aspects of what will make a good Mayor, and
The campaigns need to communicate clearly to voters.
The question I have for myself is, what can I do to help this process?  What can I do differently in 2014 to help elect a leader that will chart a more productive direction for Trenton?
I've tried quite a few approaches to improving Trenton.
I've blogged for years trying to bring new ideas for revitalization to the city.  The evidence will show that my blogging hasn't helped.
I formed Fix Trenton's Budget to provide an economic point of view in the 2010 election and later assist Mayor Mack in setting budget and economic policy.  The evidence shows that didn't help.
I helped form The Majority for a Better Trenton in order to create an unaligned political force in the city.  It turns out the group had organizational challenges, so that didn't help.
All along I've been an outspoken critic on Facebook, in the press, at City Council and on my blog.  Sometimes that makes me feel better, but it hasn't helped.
As I've often said, doing the same things over and over again in Trenton and expecting better results is the definition of insanity.  So this election cycle I'll do something I've not done before.
This election cycle I'm going to choose one candidate to not only support but also to volunteer for during the campaign.   This implies quite a bit.
It implies that I will have to make my own informed decision about the candidates well ahead of walking into the voting booth.   I've done some homework in preparation for my decisions.  I have:
Talked to each of the candidates I would consider,
Read their websites, and
Reviewed their track record in Trenton.
To put all of these conversations, impressions and histories into perspective I created an objective scorecard to help.  The scoring approach rates the candidates along several dimensions and weights the scores based on how important that dimension is for a good Mayor.  It's like coming up with GPA for the candidate but allowing the flexibility to weight one course as more important than another.
Being numbers driven seems appropriate for me as I'm constantly encouraging city leaders to be objective, unemotional and fact driven in their approaches to our problems.   It's sometimes hard to do but often provides clarity where a muddle of data and opinion cloud the issues.
For each dimension I scored the candidate 1-10.  The dimensions and weighting are as follows:
Table ‑1 Candidate Selection Criteria
Dimension
Weight
Description
Approach to Strategy
9%
Thinks critically about cause and effect.  Is data and fact driven.  Results focused.
Planning
15%
Organized, clear and thoughtful about actions and timing.  Considers risks.
Campaign
12%
Well run campaign with people who share a focus on revitalization and diversity.
Motivations
9%
Setting an example for urban revitalization in small post-industrial cities.
Management Style
12%
Disciplined.  Has an air of gravitas.  Reads people well.  Transparent.
Track Record
12%
Has participated in thoughtful activism in Trenton.
Budget awareness
15%
Understands the budget and what drives it.  Appreciates its role as the central policy tool.
General Capability
9%
Smart.  Hard working.   Well written and well spoken.  Well educated.
Sacred Cows
9%
Has revitalization minded positions on regionalization, residency, reassessment, etc.
100%
To be fair I didn't talk to all of the candidates.  Walker Worthy's strict partisanship and lack of presence in Trenton politics ruled him out as an option.   Kathy McBride's frequent missteps, support for Tony Mack and lack of interest in policy rule her out.   Bucky Leggett was so uninspiring the last time he ran that I voted for Doug Palmer.  Each of the other four candidates:  Patrick Hall, Eric Jackson, Jim Golden and Paul Perez are fine people by all accounts, including my own.   They deserved serious consideration.
Of course, whoever I support may very well not win the election.  That's not the end of the world and we have good options.   I certainly hope that even if I wind up on a losing campaign team, the winning Mayor will take me up on my offer to do whatever I can to help his administration succeed.  I made that offer to Tony Mack, he just didn't follow through.
Also, I'm not going to say anything negative about any of the other candidates except maybe to critique a policy idea here and there.
After several months of talking and thinking about the next Mayor of Trenton I've decided I'd like to support Jim Golden to be our Mayor.
Jim is seeking to bring the best thinking in the country to bear on Trenton's revitalization problems.  He has good initial insights especially on our crime issues. He has good experience in running large organizations.   He's been openly committed to setting measurable goals and setting up feedback mechanisms to track our progress.
Jim was an early and vocal critic of Tony Mack and actively supported the recall effort.  He's conscious of the budget and its limitation, especially the biggest component, police.
In every conversation I've had with Jim, he's sought to think through pragmatic steps towards making Trenton more livable while eventually lowering our tax burden.  Finally, his motivations are simple and clear, he's a retired resident of Trenton who wants a better town in which to live, so do I.
I'll enjoy working with him both on the campaign and the transition into office.   I know his heart is in the right place and that he has the right skills and temperament.  Most importantly for me, he did the best in my candidate qualification scorecard, earning 7.7 out of 10 points.
I look forward to working with Jim and his campaign but wish all the candidates well.
In its October 22nd editorial, "Furthermore…. Harsh Urban Truths", The Trentonian lays out what we in the activist community have known for some time:   Trenton is a sick city and our primary care physicians like it that way.
We've pondered for years the very same ideas The Trentonian brings up.  We've considered embarking on a journey to change our government philosophy including changing our charter. We even proposed a simple change to stagger elections that the incumbents hated.  We've noted author Jane Jacobs' ( The Death and Life of Great American Cities) philosophy that government power is destructive in cities.  We've pointed out every bad union contract (4 on 4 off police contract), government subsidized boondoggle (Rush Crossing, LYDC Hotel) and widespread dysfunction (lack of tax base, terrible graduation rate and top ten murder rate) in Trenton.
But perhaps the biggest favor The Trentonian has done is to crystalize and put in print what's really going on.   Something that, for the most part, we only talk about amongst ourselves.
The "Ruling Class" likes Trenton just the way it is!
People and politicians can indeed get rich on the carcasses of dying cities.  I've called Trenton a "company town for the underclass".  If you can invent a program that feeds on the guilt of the wealthy and has a populist pull for politicians, then Trenton is your spot.  If you can then work the system to abuse the rules (Kahan, Mack, Penrose Properties) then you can make some money.
A poor and uninformed voting base works in your favor.  If Trenton all of a sudden had an "average" per capita income, then that money would dry up.    The opportunity for corrupt officials and the developers, contractors and others that seek to keep them in power would go away.
There are those in Trenton who are part of the "underclass economy" and think they are doing "good".   Isles thought it was doing "good" when it developed subsidized affordable housing in the Hanover / Academy area, instead they created a ghetto.  I'm sure there are some at the Trenton Housing Authority that think they are doing "good" when they build another over-priced, out of control housing project.  I'm sure the people running methadone clinics and halfway houses think they are doing "good".  In total, they are making Trenton a mecca for the poor.   They're concentrating poverty in Trenton, the one place in Mercer County that can't afford it.
But Trenton's working and unemployed poor love it. They love subsidized housing.  Some love an overwhelmed police force.  So when a politician tells them "what there government will do for them", promises a block party or perhaps pays them to vote or work on the campaign, they love it.  There are thousands of voters in Trenton that are easily swayed by hope and promise or maybe even a little cash on Election Day.   Thousands more trust ministers with interests that may conflict with a healthy economy, after all you can't get a government grant to help the poor in rich cities.
We all vote with our wallets and many Trenton voters are simply voting in their interest to keep Trenton as a mecca for the poor.  So we keep electing leaders that will feed their addiction to government and non-profit support.
The only way this will change in 2014 is for three things to happen.
1)      Credible Mayoral candidates with revitalization on their minds will have to run
2)      Trenton's tax paying middle class will need to vote in large numbers
3)      A sensible message will need to be made that shows why it's in the best interest of the poor to vote to improve Trenton's economy
In my opinion we're doing pretty well on #1.   We have at least 3 candidates who appear to be honest and hell bent on revitalization with at least some approach in mind to make it happen.   This is light years beyond where we have been in the last 12 years.
As for #2 and #3, we'll see.  It's going to take a great campaign from each of these candidates and perhaps even a united front against the pretenders that may enter the race.   I'm hoping for a three-horse race.  I'll support and work for one of the candidates but I won't be crushed if either of the other two wins either (More on this later).
For the first time in a long time, I'm optimistic.
I can't think of any urban city in New Jersey which one would classify as truly "great".   A great city provides the intellectual, creative and financial juice to form new companies that fuel economic growth and the resulting high quality of life.
There are large cities in America that do this like Boston, San Francisco and New York.    There are small cities that have done it as well; Raleigh and Austin come to mind.
As we wonder what it will take to make Trenton great again, we'd be foolish to think we could copy any of those cities.  After all we live in a unique state at a unique time.  But surely the ingredients for greatness are within our reach.
Much has been said about regionalization in New Jersey and how it can help.  But let's be honest, Princeton is a poor comparable for Trenton, Passaic, Irvington and Camden.
The question is what does regionalization mean for Mercer, Essex, Passaic and Camden counties?  Does a rising tide raise all ships in those places?  Will a regionalized police force lead to lower crime rates and is that a measurably good thing for not only the urban centers but the suburbs as well?  What about schools?  What about economic development?
My suspicion is "Yes"?  Let's seriously explore being a great county.
The analysis I have read about regionalization points to cost savings from combining operations.   This is obviously a good thing.  However, best guesses are that this amounts to around a 10% overall savings.  This is nothing to sneeze at but given the severe imbalance in property taxes vs. cost of services between a poor city like Trenton and its wealthy neighbors, it may not be worth the risk.
If, on the other hand, we saw an overall reduction in crim, county wide and not just in the urban center, then that kind of improvement would certainly grab a safety conscious suburbanite's attention.
Schools could benefit too.   As it stands, suburbs currently fund not only their own schools but the lion's share of the cost of urban schools.  Those urban schools produce generally poor results for a premium dollar.   But what if by integrating schools on a county level we were able to reduce the overall cost of providing a decent education?   There are thousands of examples of where this has happened in the USA.  If I lived in West Windsor, I'd much rather have a vote on how my money was spent in Trenton than not.  And as I've said many times, I'm the product of an integrated public urban school that I'd gladly compare to Princeton High.
But the real benefit could come from economic development.  Our suburbs struggle to attract ratables while at the same time fight the ugliness and hassle of sprawl.   But what if they benefitted from development in urban centers which typically have a surplus of developable land and welcome it?  Couldn't that be a home run?  Imagine what would happen if county leaders could, in good conscious, focus their development efforts on cities knowing that the ratables their efforts generate would fund county-wide budgets.
This all sounds good but there is quite a bit of work to do to turn these ideas into real plans for action.  The fortunate thing in our favor is that a lot of the work has been done by State regionalization task forces and our current State administration is solidly behind those plans.
What is needed are Mayors and City Councils who are willing to lead their municipalities into a form of government that give up traditional autonomy in favor of a more balanced regional economy.   A strong leader in Trenton will need to find and sell the benefits of regionalization not only to the city but to suburbanites as well.
We'll have to recognize that there is a good bit of well-deserved fear involved in a suburban town throwing in with a city like Trenton.  And Trentonians would have to realize that they would no longer call their own shots.
My hope is that at least one Trenton campaign in the 2014 election sets as its centerpiece, mutually beneficial county-wide regionalization.  Let's explore sharing our library, Cadwalader park, our communication center, our schools and our developable land with our neighbors in return for becoming integrated back in to the region's economy.
Earlier this year I become so upset about politics that I took a leave of absence from Trenton political scene. (Giving up on Reinventing Trenton).   My reasons reflected frustration with working to make Trenton a better place including:
The inability of city activists to create and maintain an independent political organization (Majority for a Better Trenton),
The no-show park rangers we paid for at the 2012 Alexander's Run
The lack of thinking that went into ceding the Glen Cairn Arms property to a non-profit
My inability to help the LYDC board think analytically about the city's hotel
However, the past 12 months have been downright tragic for Trenton
Our Mayor has been indicted on corruption charges
Our tax base declined, forcing us to increase tax rates
Our hotel has come within inches of closing
Our murder rate is set to shatter the single year record
Police response has declined to the point of being dangerous
It seems that absolutely nothing can go right in Trenton and that we're on track to become an East Coast Detroit.
Trenton's problems hurt my family in many ways, some big and some small. Our property values are kept low by the high crime rate and continuing lack of amenities in the city.  Our property taxes are crushing and make our rental properties unprofitable.  It's hard to invite suburban friends to our home (guests at one party had their SUV tagged).  Babysitters are afraid to come to Trenton.  This is not a healthy environment and for those of us hoping to live a full life in Trenton
I have three choices going forward:
1)      I can move. However this would involve a substantial financial loss given that we have invested so much money in the city. Also we desperately want to stay close to our first son's grave in Riverview Cemetery and our memory of him in Trenton.
2)      I can close my eyes and hope for the best.  I have to imagine that this is what the vast majority of Trentonians are doing.  They complain from the sidelines or just suffer in silence perhaps because they don't know or haven't been told how to help.
3)      I can reengage in some useful way. There are many options and I've tried several of them. I've worked to become an independent resource for revitalization thinking. I've tried to help start a political group (Majority for a Better Trenton).  I've helped start a non-profit arts organization and I've helped lead election debates.   One option I've not tried is to become involved with a mayoral campaign in a meaningful way.
But the fact is, if I can't move and sticking my head in the sand won't work, then I'm better off trying to help one candidate be the best that he or she can possibly be.   I've never expected a Mayoral candidate to have all the answers.  I do expect them to lead in an intelligent way and bring serious thinking to what amounts to world class problems.  I expect them to turn away from those who have led us to the place we're in and to embrace new thinking about revitalization.
So with all of this said, I'm in the market for a transformational Mayoral campaign.  I can write.  I can research.   I can stuff envelopes and I can debate.   I wouldn't mind doing a little door to door, though I'm sure I'm about the least likely person in this city to connect with the average voter.  I know that.  But I do want to start putting a real revitalization plan into language all of us can understand.
My positions on policy are clear.  They've been posted on Reinventtrenton.com for many years.  I should be a known quantity by now.
So, here's how I'd like to proceed.  I'll email you and let's set a time to talk.  Let me hear your approach and your positioning.  Rest assured that political platitudes and dubious promises won't work with me.  I know the budget and its issues pretty well and I've been studying Trenton and urban revitalization for a while now.   I'll be difficult and I have a reputation as an angry taxpayer.  However, if you want: policy development help, logistical help and to be seen as a pro business, pro taxpayer candidate, it might be worth the trouble.